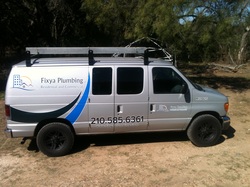 About Us
Fixya Plumbing LLC is woman owned and HUB certified company and is one of the leading plumbing companies in San Antonio! When you need plumbing work done properly, whether it is as simple as a clogged pipe, or as potentially complicated and sensitive as a sewer repair; Fixya is the go-to in the San Antonio areas for quality plumbing work done on a timely schedule. With many years of combined experience in the field, Fixya stands out from our competitors through our attention to detail and our dedication to using the best equipment and the best techniques for the job every time. The team of professionals at Fixya understand the value of timely, accurate assessments and precise, effective repairs, whether it means saving you a drain replacement by breaking up the most resilient clogs. At Fixya we value quality work and prompt, professional service above all else.
Fixya Plumbing is Licensed and Insured!
We've been providing trusted residential and commercial plumbing services for years. Our plumbers will arrive at your door, on-time, inspect the problem, and provide you with a written, up front estimate. Once the job is completed, our technician will clean up the area as if he were never there.
Our Plumbing Services
We specialize in providing fast, high quality repair, replacement and installation services including:
Plumbing Repairs
Drain Cleaning
Water Heaters
Boilers
Sewer Lines
Water Lines
Heating Systems
Gas Lines
Water Softners
---
Don't Delay Call Fixya Today! 210-585-6361
Richard Breach M#39425 Fixya Plumbing is licensed and regulated by Texas State Board of Plumbing Examiners P.O. Box 4200 Austin, Texas 78765-4200 Phone # 1-800-845-6584 or 512-936-5200